

Strap On Dildo Harness with Big Black Dildo Vibrator SO-027
Privacy Policy
Delivery & Return Policy
Secure payment
Dildoing will now be fun if you take it on a harness, and this Strap On Dildo Harness with Big Black Dildo Vibrator is going to give you an amazing experience. Black in colour, it looks quite stylish. When your partner wears it, she would look like a perfect BDSM performer. Furthermore, it is made of silicone and hence makes it feel quite soft on the body.

A quick look at some of its features:
• Black in colour
• Harness strap
• Big Black dildo
• Silicone body
• Length - 10 inches
• Height – 3 inches
• Width – 3 inches
• Weight – 380 gm

So, whether you are having a female partner or a male partner, wear this trap On Dildo Harness with Big Black Dildo Vibrator. Moreover, it is light in weight and will put much pressure on the waist. Don't delay and order this product today for awesome bed sessions ahead.
Customers who bought this product also bought:
16 other products in the same category:
Item specifics
Strap Ons Dildo Toys, Ultra Elastic Harness, Lesbian Massage, Couples Sex toys, Sex Products, Adult Toy for female
Description  

 Experience that simple pleasures of a classic dildo strap-on!  This sexy strap-on dildo is the perfect way to be in control.  The silicone strap-on dong can satisfy the fantasy need of you and your partner. It?s adjustable harness is designed to easily fit most sizes and when the action heats up, rest assure that this toys stays in place with its sturdy design.  Go extra wild with this incredible toy.


 Features:

  Strap On Dongs

  Luxurious body safe silicone

  Smooth, unscented, phthalate free
 
  Waterproof

  Material: Silicone, Imitation Leather, Nylon belt
Venus Butterfly Vibrator - Famous
Why We Love the Venus Butterfly Vibrator
The Venus Butterfly is a famous and unique vibrator that has been around forever. The Venus Butterfly vibrator is a vibrator that is held in place with straps, so it fits right up against your clit and labia. It is almost worn like a pair of panties.
About the Venus Butterfly Vibrator
The Venus Butterfly provides targeted stimulation to the clitoris, while leaving your hands free to play with a dildo or partner. The Vibrating Venus Butterfly nuzzles against your labia, and features a tail that stimulates your vaginal opening. Adjustable straps allow this vibrator to fit most women.
How does the Venus Butterfly Vibrator Feel?
The Venus Butterfly can be worn during partner sex for clitoral pleasure. Use your hands to press it into your labia, or allow the weight of your partners body to grind the vibrator against you. The Butterfly vibrates at a pleasurable hum, meaning it has an average vibration output and is audible.
Use and Special Instructions
Takes 3 AA batteries. Wired controller.
Venus Butterfly Vibrator Facts
Vibrator Type: Wearable
Length: 3.5 inches
Diameter: 3.5 inches
Material: Unscented TPR
Smooth with fluttering butterfly wings
Variable vibration control
Best for: external stimulation of the clitoris during solo play or sex
Who will love the Venus Butterfly Vibrator: women who want to try something new; those seeking more clitoral stimulation
Batteries: Takes 3 AA batteries
Ultra Elastic Harness Lesbian Strap-on Dildo SO-019

Here comes the Ultra Elastic Harness Lesbian Strap-on Dildo, a super-hot erotic product that will let couples come closer than they had ever felt earlier. Made of premium quality silicone, this sexy strap-on dildo is quite easy to wear as it uses high-grade elastic. Soft to touch, it is a pleasure for couples to own it for some quality bedroom fun. Its adjustable harness is designed to easily fit most sizes. Purple in colour, it looks quite stylish and is also quite sturdy.

A quick look at some of its features:


- Made of silicone
- Harness strap
- Easy to wear
- Purple in colour
- Quite sturdy

For being made of premium quality silicone, this Classic Dildo Strap-on is quite easy to clean. The experience you will have while using it will not only be outstanding but a different one. Now bring this exclusive product online and upgrade your dildo collection without burning a hole in your wallet.
WITH ATTACHED VAGINA
 Strap On Dildo Power on a belt! An intensely satisfying cock and ball strap on dildo made of super feel rubber. The perfectly shaped head and vein covered shaft providing you with ultimate vaginal penetration. The best part of this strap on dildo is that the other side is a pussy providing stimulation to the man as well. A strap on dildo sculpted from an erect penis, it looks and feels incredibly real. This strap on dildo comes complete with a fully adjustable elasticated strap-on harness.
FEATURES
Ideal Sex Toy for                                :          Female and Male
Strap-On Harness Size                       :         Fits anything up to a 46" waist
Dildo Strap-On Vibrator Colour         :         Lustrous Purple
Dildo Strap-On Vibrator Material     :         Rubber
Dildo Strap-On Vibrator Functions   :       Multi-Speed Vibrating, Hollow & Vagina Shaft
Dildo Strap-On Vibrator Length        :        8" Total - 6" Insertable
Dildo Strap-On Vibrator Circumference :              5"
Flexible Sex Toy?
Firm and Flexible
1.4 inch dia
1.1 inch inner dia
Fittable with any size of Penis
FULL DESCRIPTION - Rampant Dildo Strap-On Vibrator Unisex with attached Vagina
Lustrous purple strap-on dildo power on a belt. Magnificently sculpted, the delightful shaft on this dildo strap-on vibrator is veined and features perfectly shaped head to provide you with maximum stimulation and penetration. This dildo strap-on vibrator is ideal for both female and male wearers due to the hollow shaft including a padded vaginal entry.
Many of our male customers like to use this strap on as a penis extender. Comes complete with strap-on dildo, comfortable and adjustable thick elasticated strap-on harness, a powerful but silent vibrator, multi-speed controls. A favourite Strap-On dildo vibrator that offers amazing value and provides full satisfaction.
If you are eager to have an engaging BDSM session, bring home this Black Red Edge Leather Harness Lesbian Strap-on. Stylish in look, it has a total length of 6 inches out of which 5 inches can be inserted. Having made of good quality silicone, it is quite soft on the skin and also quite safe. 
A quick look at some of its features:

• Red and Black in colour
• Silicone body
• Light in weight
• Safe to use
• Easy to wear
• No vibrations
• Total Length: 6 inches
• Insertable Length: 5 inches

What makes this Black Red Edge Leather Harness Lesbian Strap-on unique is its look that is unmatched in comparison to other strap-ons. It can be used by couples and also lesbians for an awesome session. Now you can buy it online at an affordable price and add it to your existing collection of sex toys.
Experience all the pleasure of a strap-on dildo combined with the rotating, twisting stimulation of a rabbit vibrator. The rabbit strap-on with vibrator produces multiple angles and speeds of stimulation for incredible, intense orgasms with 7 vibration settings that you can control. A filling 7 inches in length, the rabbit strap-on is shaped like, yep, you guessed it, the classic rabbit vibrator, but with a twist. Designed to be worn as a strap-on, the twisting beads in the shaft massage you internally, the rotating head works your G-spot and the rabbit shaped vibrating stimulator flicks your clit for three distinct areas of delicious sensation. Controlled by the attached remote you can pick from 7 different vibrating modes at a variety of speeds and intensity for the ultimate stimulation. The included harness is made from comfortable elastic and is fully adjustable for the perfect fit, while the solid shaft makes this perfect for female wearers. Powered by 4 x AAA batteries.
Have an amazing experience in making love with your partner on wearing this Strap-On Ultra Passionate Harness. Designed to be worn at the waist, it is very soft for being made of good quality silicone. The harness strap makes it easier to wear. It features an original skin colour that makes it look quite realistic. 
A quick look at some of its features:
• Skin colour
• Silicone body
• Light in weight
• Harness strap
• Realistic look
With a total length of 6 inches, it has an insertable length of 5.5 inches. It requires no rechargeable batteries and it weighs only 157 gms. So, if you are willing to have double the fun with your partner, wear this Strap-On Ultra Passionate Harness and get going.
The Lil Starfish Strap On Vibrator is perfectly sized to ensure every super soft finger engulfs your vagina for complete stimulation. Slide the pearlescent pink waterproof vibrating bullet into the Lil Starfish Strap On, lie back and enjoy each of the 7 vibrating patterns on offer. The transparent straps are easily adjusted and fit up to a 36 inch waist. Enjoyed in the bedroom or whilst taking a warm relaxing bath, the Strap On Vibrator comes with a free set of batteries to get you going.



Batteries / Power : 3x Cell
Size / Dimensions : 3.5 inches x 1.5 inches
For the girl who wants discreet, constant pleasure that's always close, The Lil' Starfish is a wearable treat that delivers all this and more. A classic strap on vibe in form, the Starfish has a curvy shape that fits against the body closely, and a intensely textured underside that sits against the clit. Soft, clear straps adjust to fit with simple closures, and since they're transparent, you could get away with almost any length of skirt, shorts or dress. The core of this vibe is a petite little bullet vibe that fits inside the body of the starfish, it has 7 breathtaking functions so you can pick the pattern and intensity that suits your purpose. If you're not in the mood to wear your vibe, just pop the bullet out and enjoy versatile sensation anywhere you choose, a single little push button on the base changes up the patterns and speed. The Lil' Starfish is fully waterproof for shower, pool or hot tub fun, just be sure to tighten the battery cap fully before getting wet. Takes 3 LR44 batteries (included).
Specifications:
Length - 4"
Width - 4 1/2" at widest
Material - TPR (thermoplastic rubber), ABS
Powered by - 3 x LR44 batteries
Special Features - Multi-speed, multi-function, waterproof
Color - Pink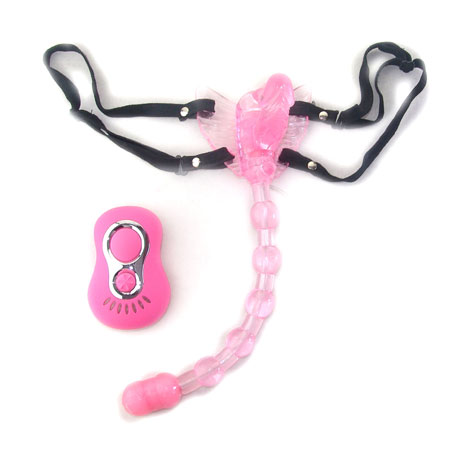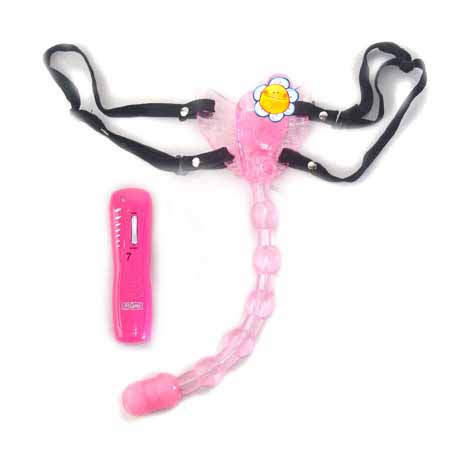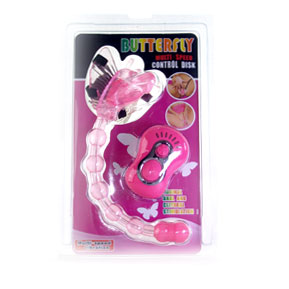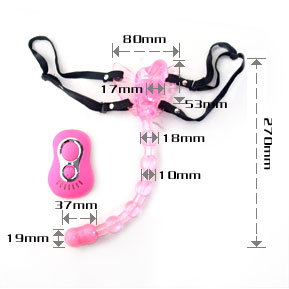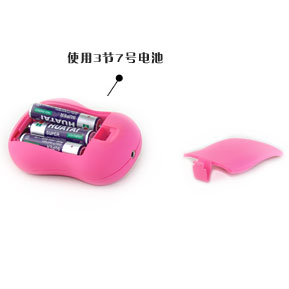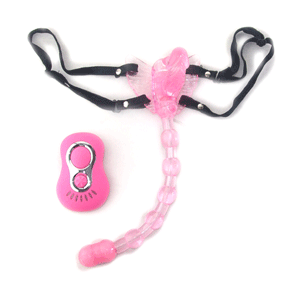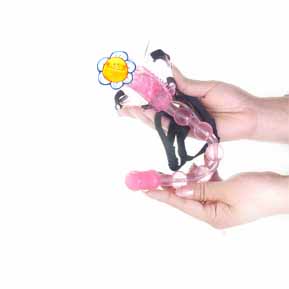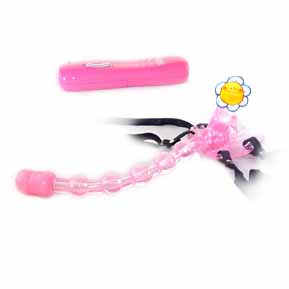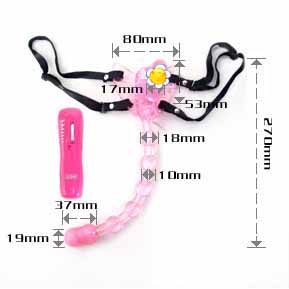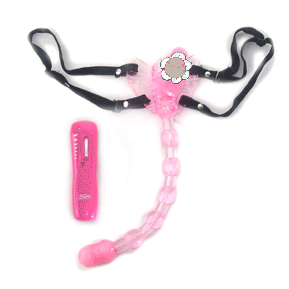 wearable butterfly whip - the vagina, clitoris, after the Court of triple stimulation
butterfly whip for the crowd: easy female orgasm: the vaginal opening it shallow strong stimulus, will allow you to climax stacked; stimulate the rear garden of pleasure, not all appliances can be achieved, before and after the attack to bring you unlimited pleasure;
first test female masturbation: it"s soft and small, to you only pleasure without any harm;
romantic couples foreplay: it game in her secret garden, to provoke her deepest desire &. .. & ... can enjoy the full range of 11,000 beats / minute the overclocking vibration pleasure, to s you directly to the top of the climax!
worn butterfly massager made from super soft medical polymer non-toxic materials, which can massage three sensitive areas, and a seven-stage frequency vibration function better materials, greater frequency and angle of rotation, the process is more refined; single, Miss Bai Ling and couples wishing to experience a new taste essential sex with! The
small dick inserted into the vagina, super unique convex tablets stimulate the clitoris and tail with the activities of joint adjustable angle insert court, wearable massage simply put, that is able to enjoy a comfortable pleasure!
butterfly wear massage attached to adjust the width of the elastic belt, regardless of size, Ms. suitable for all
function:
crystal crystal clear, can also stimulate the body"s sensitive parts of the product, now let the exquisite jade crystal remote control butterfly to help you realize this dream. his personal care and keeps you feeling as happy a woman"s pleasure. wearable (transparent invisible wear), thread design, can be firmly wear to the Department on the body, comfortable and loaded with powerful oscillation produce up to 11 000 beats / min of ultra-high frequency oscillation, but also quiet design
transparent material, simulation small male genitalia can enhance your pleasure. comprehensive massage the sensitive parts of women"s passion from the outside to inside, completely meet women a full range of needs of remote vibration to meet the demand for more convenient climax single-handedly hold grip, ready to enjoy the infinite pleasure.
exquisite jade crystal remote control butterfly, new design more humane and beautiful appearance of the product modeling dynamic attractive with for wear ribbons bondage in the women"s thigh with the Ministry of freedom to control the pumping fork depth, the female vagina massage, accelerate local blood circulation, stimulate orgasm, ocrine regulation, to achieve physical therapy, the purpose of masturbation.
specifications : length 27.0cm, maximum diameter of 8.0cm, one installed.
materials: non-toxic medical polymer materials.
[to use]:
1 battery is installed correctly (This product uses three 1.5V batteries) with 75% of medical alcohol disinfectant scrub products
2. before use a generous amount of lubricant products (recommed with condoms use)
3. into the body, start switch, until climax
4. turn off the switch and exit from the body.
Important Information
Safety Information
1.to avoid injury or aggravation of pre-existing conditions,this device should not be used on swollen or inflamed areas or skin lacerations. no medical claims are warranted or implied by the use of this product. 2. the battery not installed correctly may cause appliance part function is not normal. 3. equipment maintenance please use neutral bath dew or special detergent cleaning nursing. 4.implement long-term need not take out the batteries, so as to avoid the battery leakage corrosion circuit.

Directions
Use steps: 1.Put 2AAA batteries into the battery warehouse,ensure the battery good contacts, so as not to affect the normal work of the product. 2.Rotating coping "On/off",adjustable control level transformation of the bullet mode and transformation of the penis mode .
---
Product Description
Wash it before and after each use.with liquid,antibacterial soap and water.
(Do not get battery or vibrator wet,do not immerse in water)

ribbed 9" shaft,G-spot stimulator holds dong in place with anal plug stimulate female genitals of each place sensitive area.
portable hand free design,
multiple speed control
powerful vibration and affectionate reach, let you reach the top of my joy!
make sure the battery warehouse bottom tightened.
Avoid not tighten the battery warehouse lead to bad contacts can't work.
Multi-speed vibrations
Waterproof
Hygienic
Battery:
2 AAA
Material:
Skin-safe rubber
Item specifics

Item Type:

Dildos

Brand Name:

EROS

Material:

PVC

Size:

170 X 35mm

Model Number:

DI-WB-805

Brand Name:

EROS

Item Type:

Dildos

Color:

Fleshclor

Material:

PVC

Product Description


Straps Ons Dildos & Penis

Vibrating Realistic Cock

Lesbian Dildos Sex Toys

 

 

Don't hesitate to buy now and enjoy your happy life every day!

 
Product Description
Model / Code:
STRAPON-18CM-HOLE
This 18cm strap-on realistic penis (harness) is the perfect tool for those couple who want to break the monotony in their sex life.

It's a strap-on as well as penis extender with vibration. Feel the enhanced pleasure from your loving partner again! Can be used in many different positions for various types of sexual penetration. Wear the harness and have the power to penetrate with vibration!

- Overall Length: 18cm (7")
- Girth: 4cm
- Multi-Speed Vibrating Controller
- Built-in Vibrator is located at the head of dildo to enhance stimulation
(2 x AA batteries - not included)
- Dildo is detachable from the strap
- Color: Flesh-skin
- 100% Safe & Non-Toxic Material
(Buy & Use It with Confidence!)
- Manufacturer : BAILE (International Trusted & Reliable Brand)
Manufacturer approved by STATE FOOD AND DRUG ADMINISTRATION - FDA ; RoHS Compliance ; EMC Compliance (CE) ; United States Patent & Trademark Office

Hollow with Vagina-Opening Design For Penis Extension and Masturbation:-
- Depth: 10cm ; Extension: 8cm
(can assist men with erection difficulty)



Dimensions: ( 7.3 x 1.7 )" / ( 18.5 x 4.2 )cm ( L x Dia.)

Weight: 11.99 oz / 340 g

All parts are made of medical polymer non-toxic material, plump and elastic

Material: Medical Polymer Non-toxic

It can be safely used in conjunction with condoms, to make sex life closer to the natural feeling
Product Introduction:
1. Wearable design, flirting between husband and wife, also used as Lesbian love caressing tool
2. All parts are made of medical polymer non-toxic material, plump and elastic
3. One dildo for you and your partner
4. Adjustable waist band
5. Increase libido, regulate emotions
6. It can be safely used in conjunction with condoms, to make sex life closer to the natural feeling
7. A good choice for you

Product Detail:
1. Model: BW-022039
2. Material: Medical Polymer Non-toxic
3. Color: Pink
4. Weight: 11.99 oz / 340 g
5. Applicable Gender: Male
7. Dimensions: ( 7.3 x 1.7 )" / ( 18.5 x 4.2 )cm ( L x Dia.)

Package Includes:
1 x Strap On Dildo Harness
1 x Remote Controler
Get all the satisfaction and pleasure you want from this dildo. This dildo is made from silicone lifelike material and comes with a multi-speed vibrator and a super bunny for clit stimulation. This dildo with a bunny will get the hell out of you and make you squirt in less than no seconds. This dildo comes with a fully adjustable strap on harness.